Matched Betting Tutorial - How To Bash A Bookie!
You may have noticed how competitive internet bookmakers are with virtually every single bookie offering new members a free bet or a deposit bonus. Incredibly, most people fail to make any significant profit from these opportunities -

We will show in this tutorial an incredibly simple risk-free method to gain the maxium profit from these bookies bribes.
See the problem with bookmakers free bets is that people will try and make a fortune from them by betting on Carlisle to win the FA Cup - no offence if you support Carlisle but it's unlikely to happen to say the least!! And chances are you could have lost some of your own money in qualifying for the free bet because you were gambling then too.
We'll show you how to be a bit more clever than that!
Instead, our really simple technique is to structure betting on all possible outcomes of a selection with the help of a betting exchange - we'll explain fully in a moment. This means you'll incur a slight loss on your qualifying stake, but you'll see most of the free bet turning into cash going into your bank account. Overall, from each free bet offer you should make a nice tidy risk-free profit.
Here's an example, Bookie A offer a

free £25 bet

once you have bet £25 of your own money. So with the help of a betting exchange we construct a bet regarding the draw in a particular football match. This means we may

lose around £1 from this initial bet to gain the £25 free bet

. In other words,

your betting bank has just increased to £49

. Now with the assistance of a betting exchange we now structure another similar bet on another draw in a football match to lose only a small portion this increased betting bank.
So to sum up, in our example you lost £1 to qualfify for the free bet, but have constructed a second bet (which is now using the bookmakers money, not yours) to

guarantee you almost all of your £25 free bet as cash ready to withdraw to your bank account!
What's more- there's stacks of offers you can take advantage of so the cash can really start to add up, and our automated Oddsmatcher finds the best selections and calculates the stakes needed!!
So let's put all this theory into practice, starting with how to lay at a betting exchange....
Our matched betting method involves using a betting exchange to lay the outcome you have selected for your free bet or qualifying bet - this is to say you are wagering that the selection will not happen. Laying is what bookmakers have always done, that is they accept bets from people at agreed odds, paying out the winnings if the bet wins and keeping the stake if it doesn't (liability). The liability is the potential winnings you would have to pay to a backer should their bet be successful. For example, a backer winning a £10 bet at 3.00 (2/1) would have received £30 back including his stake. If you were the layer of that bet you would have had to payout £20 in winnings, the other £10 is the stake returned. You must always have the funds to payout the potential liability, which is held by the betting exchange until the bet is settled. To calculate the liability you need to take the decimal odds minus 1 then multiply by the accepted stake. For example, 4.50 - 1 = 3.50 multiplied by say £20 which equals £70.
Don't worry this is calculated both by the betting exchange and our Oddsmatcher. Nor should you worry about the level of liability because you are actually betting on the outcome winning too!
Find a bookmaker you haven't joined yet that offers a free bet for new (or possibly even exisitng) members. We recommend that you follow our links to ensure you gain from these internet offers, but don't limit your accounts to internet-only. Check out The Sun or the Racing Post etc on a Saturday, as there are usually loads of phone account free offers that work equally well with this technique. We always try to keep an updated list of the best internet offers on the side of the page >>>
Check out the terms and conditions of the offer. In most cases it will be as simple bet £25 of your own cash and then you will be credited with a £25 free bet, but the stake might not be returned from a successful free bet. In other words a bet at 3/1 would only return £30. If you're not sure then you can always ask us.
Check that the offer does not apply to specific sports or markets such as correct score in football. We actually find football to be the most effective sport to use this technique on. Make sure you join the relevant bookmaker and deposit the required funds (usually fee free, especially if you use a debit card).
What the Oddsmatcher looks for is an event where the odds on a particular outcome are very similar at your chosen bookmaker and at a betting exchange such as Betfair. If you have never used a betting exchange to lay a bet, then we suggest you follow the tutorial at Betfair. If you need help finding a close match of odds just ask us.
Once you've found a selection the Oddsmatcher calculator will tell you, given the back and lay odds, how much to lay at the betting exchange (including funds required) and what the overall profit or loss will be from this bet you have constructed.

Remember, a small loss is acceptable to gain the free bet cash - this is crucial to the success of the system

.
Once you have gained your free bet credit into your account you can go back to the Oddsmatcher to find another selection, so that you can get the free bet out as cash into your bank account. Again, the Oddsmatcher calculator will work out all your stakes for you.

Withdraw your cash when the result is in. Move on to the next bookmaker and follow these steps, and those on the calculator, once more.
Now watch your stockpile of risk-free matched betting cash start to build up in your bank account!
The below examples from May 2012 show how much profit could be made from the then valid £50 free bet from Ladbrokes - the selection was found by our Oddsmatcher software, which also automatically calulated the stakes needed. The main terms of the offer are minimum odds of evens (2.0) on the qualifying bet and that the free bet is "stake not returned"

We have decided our qualifying selection should be Malmo in their match away to Sundsvall - this is because the odds met the minimum requirement of evens (2.0), their is enough liquidity at Betfair to match the bet off, and because the event is only a couple of days away (Ladbrokes award the free bet upon settlement of the qualifying bet). I've then clicked on the information button to fire up the calculator.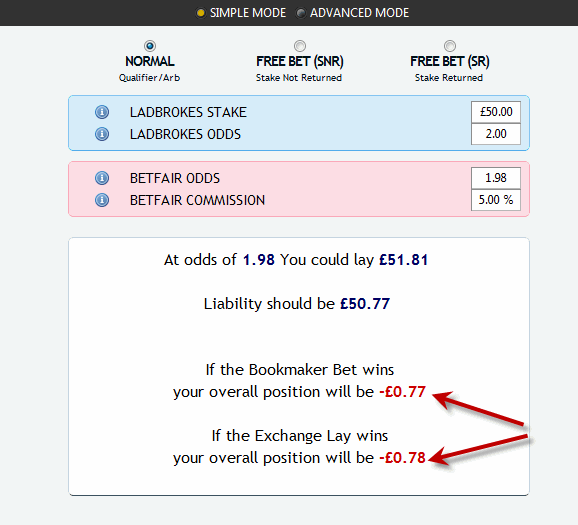 If I follow the above recommended stakes, I will lose either 77 pence or 78 pence whatever the outcome of the event is. I then receive a £50 free bet so in effect my betting bank at this point has grown from £50 to £99.22, however we still need to cash the free bet out as below.


To cash out the free bet I have selected Georgia at home to Turkey, as a better return is achieved from a stake not returned free bet using higher odds (the higher the odds the better, but this also increases the level of funds needed in Betfair). Once again I let Oddsmatcher calculate my stakes, once I've selected this is a £50 stake not returned free bet.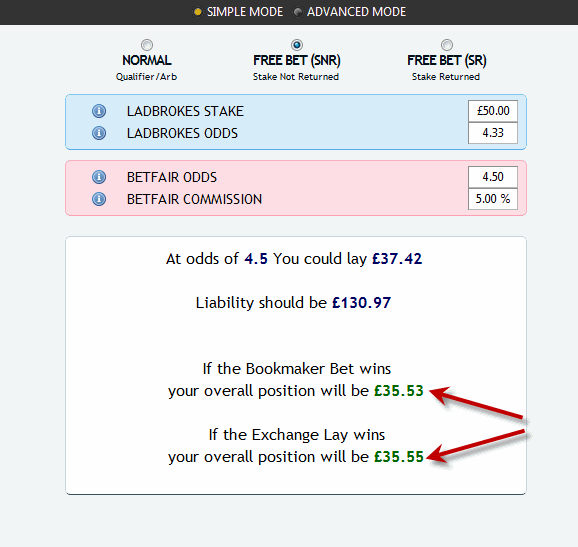 You'll see we're locking in a profit of either £35.53 or £35.55 no matter what the outcome, this is from a qualifying bet loss of just 78p.
In other words, you've just made a worst-case overall profit of £34.75 !!!

When using this method it is important that you ensure that you select exactly the same events for the matched bets. For example, both bets are regarding an Ipswich win (back the win at the bookmaker, and lay (bet against) the win at the betting exchange). Make sure both bets have the same rules, ie not including extra time in a cup match.
Remember that your fund will be tied up at the bookmaker and the betting exchange until the event is settled, therefore it is best to choose a closely matched event that does not have more than a week to run until it finishes.
Make sure you understand how to use the betting exchanges by following the tutorial on Betfair.
If you need to wager through a deposit bonus a number of times, it is best to look for an event where the outcome you are backing is going to lose using your free bet but succeed using your lay stake at the betting exchange. This is because each time you use this method you could chip away profit from your deposit bonus. And it's good fun to reverse the roles and find a selection you think is going to lose!!
If the free bet does not include the stake returned should the bet be successful, then it is best to find a closely match event at odds of 4.00 or above. The higher the odds (assuming they are still closely matched) the higher the % of the free bet you will retain as cash.
You'd be best trying the technique at a bookmaker that gives a smaller bonus as any unlikely mistakes you could make would be with smaller amounts of cash. Just look for a smaller offer from our latest offers list.
Even better, try some paper runs first, predicting you'd put real cash into a bookmaker and got the free bet. Put in the odds and stakes for the bet to gain your free bet, and then the same with the imaginary free bet, and see what profit you would have made. Do this a few times if you're not sure.
It is better to select to display odds at your chosen bookmaker in decimal format as that is the format used by betting exchanges, and on our calculator. If you can't do this then you can convert fractional odds here.
Use some ingenuity and you can repeat the offers listed on our site a number of times. A popular method is to use your partners details or help a friend sign-up for an offer for a "cut" of the profit. Just check out the relevant terms and conditions and to see what's restricted. Some offers allow more than one sign-up per address -

these are known

as "partner friendly".
Keep your address and email details up to date at all times at the bookmakers as from time to time they will send out free bets to people whose accounts have remained inactive for a few months.
Check out the latest offers on the top right of this page

Join our mailing list below for the very latest offers and some pre-calculated matched bets.